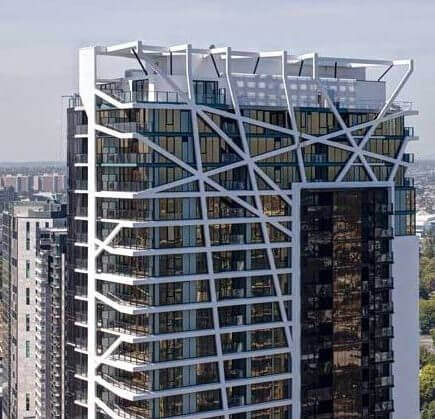 As Wrap starts to unveil itself a number of people have queried how we are building the Wrap element. Brett Rogers worked closely with the design team and builder to simplify what is quite a complex element. Pictures tell the story best, if you look at the rotating images above you will see how simple it became.
On the facade photo you will notice on the west face (RHS) the slab edge beam at each level projects beyond the front of the building this aligns with the vertical precast spine (LHS) that is rear fixed to the front slab edge, this spine dissects the left and right hand side of the north elevation. The space in between is where the prefabricated Wrap element is inserted. This is a rectangular steel hollow section pre-painted is a highly durable gloss white, it has fixing points at each end one connecting to the slab edge the other to the spine. Access panels at the rear hide the fixing connection. Each piece is simply lifted by the crane into position, a bit like a meccano set.
Both the spine and edge beam get painted white, and with the pre finished element placed between it forms the Wrap. Thats how we made Wrap… Wrap. Simple really!